Country Ham
Authentic North Carolina Smokey Mountain Country Ham from us to your table
Are you looking for quality authentic country ham from the blueridge mountains of North Carolina? Look no farther. Hams Direct is your distributor for the great natural quality country ham products grown, cured and shipped in and from the mountains of northwestern North Caroilina. Our country ham is provided by The Goodnight Brothers Traditional Ham Producers of Boone, North Carolina. Goodnight Brothers cures their ham to the highest of standards and their ham is purchased and served by many large restaurant and food chains such as Hardee's, Bojangles and the world famous Dan'l Boone Inn just to name a few.

Get the best tasting ham the high country of northwestern North Carolina has to offer. Our ham is packaged in air-tight quality packaging and comes to you salt cured in quality shipping. When you receive your ham in the mail, please make note that you should boil the salt out or water submerge the ham before preparing for dishes and meals. We have also included a section of our web site for ham recipes that we have used and recommend for you to try. Feel free to let us know about your favorite ham recipes and how you love our ham. We may display your wonderful comments on our web site. Our ham has very little fat and is mainly lean. You buy ham and not fat from Hams Direct.
Shipping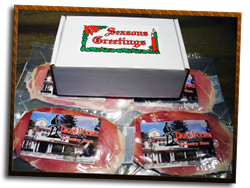 Center Cut Pack shipping is currently a fixed price of $11.95 to the continental United States.
Our Ham makes a perfect Holiday Gift for the entire family! Start Shopping Today!
NOTE: We can ship up to three orders (12 packs) of ham in one box for no additional cost.