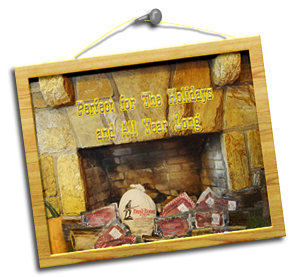 Welcome to Hams Direct
Quality North Carolina Blueridge Mountain Country Hams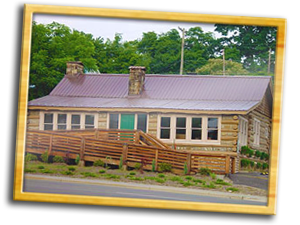 We are pleased to offer what we feel is the best Country Ham available. Goodnight Brothers are producers of traditional country ham since 1948. Our Country ham is dry cured with sugar and salt from Goodnight Brothers of Boone, NC. which is Located in the NorthWestern Blue Ridge Mountains of North Carolina. Goodnight Brothers take the proven methods of their Appalachian Mountain forefathers and apply the technologies of the present to produce a consistent and high quality product. Below is a brief outline of how the natural seasons of Winter Spring Summer and Fall are duplicated.
Goodnight Brothers uses the freshest hams from eastern North Carolina. All hams are cured the old-fashioned way by hand-rubbing the salt and sugar on the meat. With a ham this high in quality, why save it only for the holidays or a breakfast treat? Goodnight recommends wrapping shrimp or scallops in a thin slice of ham. Or, try stuffing a chicken breast with spinach, goat cheese, and country ham. If you go crazy for shrimp and grits, add a few fine slices of country ham for a slightly richer taste. Hams Direct's part in this operation is to provide Fresh, Quality Country Ham to you in a very timely and cost efficient manner. We are located less than 2 miles from the Goodnight Brothers facility and is located directly across the street from the world famous Dan'l Boone Inn restaurant.
We believe in NO SPAM just Ham
If you ever do business with us; we may send you an update or flyer on our goods and services. Should you ever decide that you do Not wish to receive in the future, simply lets us know. We never sell or "give" our customer list to anyone at anytime, period.
Order your country ham and have it delivered by Christmas.
Our hams go through a full year-type process and cure to perfection
Winter
The most critical and time consuming phase to the process. Goodnight Brothers take the freshest, leanest, and highest quality hams available and hand apply salt and a specially formulated curing mixture. They are then stored in a Winter-like environment.
Spring
The hams have absorbed all salt and sugar in the Winter room. They are then put in nets and hung on racks. The salt and cure mix is then able to equalize throughout the whole ham giving it a consistent flavor throughout.
Summer
In the Summer room or heat stage of the process the temperature is maintained at ninety degrees or above. In this critical stage, the hams complete the drying process and are re dried for the fall environment.
Fall
In order to de-bone and slice the cured country hams, they are cooled to a Fall like temperature. The chilled hams allow for more precision when boned, sliced and packaged.


Our Ham is used in these great restaurants.

Our Quality Ham Products

Center Cut Ham
$18.99 + shipping ($11.95 -- We can ship up to 3 orders per box for this shipping price)

New Flat Rate Shipping through USPS allow your hams to arrive quicker than UPS.
NOTE: We can ship up to three orders (12 packs) of ham in one box for no additional cost.
Product Details
Boneless center & end slices, vacuumed packed in 12 oz packages, 4 packages per order.

BENEFITS OF USING THIS PRODUCT
* Individually vacuum packed. * Can be used for resale.

SERVING SUGGESTIONS
Centers can be used as ham steaks, breakfast cuts, or for sandwiches. End slices make good biscuit pieces.

PREPARATION AND COOKING INSTRUCTIONS
Ham is salt cured so par boil or water submerge to release salt from ham.
Grill, Bake or Fry. Do not overcook.

LIST OF INGREDIENTS
Pork cured with: Salt, White Sugar, Brown Sugar, Maple Flavoring, Sodium Nitrate, Sodium Nitrite